NEW MILLS SCHOOL TEACHERS AND STUDENTS CELEBRATE SUCCESS IN ANOTHER YEAR OF NEW EXAMS AND HIGH EXPECTATIONS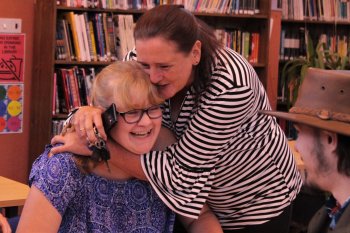 The hard work, graft, concentration and nervous energy of pupils and teachers has been rewarded today as Year 11s collected their results at New Mills School.
This is the first year of the new harder GCSEs for most subjects. English and Maths led the way last year and this year most subjects were assessed on grades 9-1.  73% of New Mills School students achieved a grade of 4 (equivalent of an old grade 'C') and 71% in maths.
This year the school is delighted that our Science Faculty have achieved a 22% improvement leading to 68% of students achieving a Grade 4 and above in combined science. 100%  4+ grades were achieved in Physics, Chemistry and Music. Headteacher Debbie McGloin said "Our school prides itself on its broad and balanced curriculum so it is lovely to see such high attainment in both science and arts subjects".
The top attaining students in the year are Lorna Richardson who achieved a stellar 9 Grade 9s and 1 grade 7. Zoe Bagnall was hard on her heels with 7 Grade 9s and 3 grade 8s, closely followed by Neve Meats with 6 Grade 9s, 3 grade 8s and 1 grade 7. They are in good company with Emily Body, Emily Hirst and Samuel Farley who  are celebrating 13 Grade 9s, 9 Grade 8s, 4 Grade 7s, 4 Grade 6s and 1 Grade 4 between them. All these students will now be embarking on their sixth form studies with strong educational success behind them.
Debbie McGloin commented "New Mills is a truly comprehensive school, serving all the young people in our community and I am equally thrilled to be celebrating not just with our most academic students but alongside those students who may have had additional needs and achieved impressively nonetheless". 
Debbie McGloin added "This has been a very busy and positive year for New Mills School. In September the school was judged good in all categories by OFSTED. The GCSE results today support their findings and I could not be more proud of our staff and students".