Charity Football Match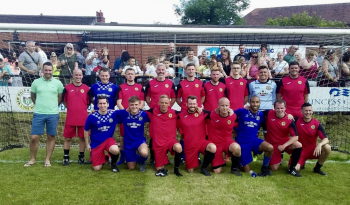 Well done to Mr Worsley, Mr McGloin and Mr Lytham for taking part in the charity football match against the 'Charity All Stars' at New Mills Football club on Saturday.
The game was the highlight of the Family Fun Day organised to help raise money for local children's charities. Working in partnership with www.onceuponasmile.org.uk/ High Peak Schools Sports Partnership and New Mills Football Club.
The 'High Peak Select 11' was made up of local primary and secondary school teachers and their opposition was made up of stars from TV, musicians and ex professional footballers. The celebrity football team travel throughout the UK taking part in a number of football matches for charitable and community projects.
It was an exciting game which ended at 3-3 on the final whistle, with Mr Worsley scoring the equalizer for the draw. The game then went to penalties and the teachers won it – well done teachers. This is a great result considering they only go together for about 2 training sessions in preparation for the game.
 However, it wasn't about the winning, the day helped raise money for a worthwhile cause and special thanks goes to Matt Quigley from UK Sports Coaching, for organising this event.