Annual Presentation Evening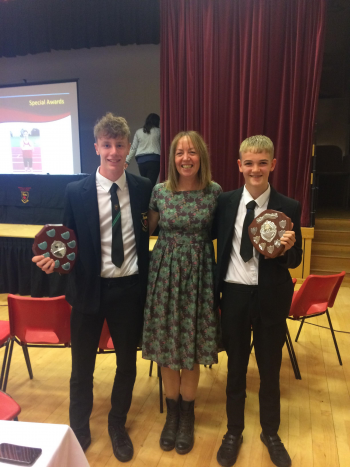 We held our annual presentation evenings in the last week of term to recognise and celebrate the achievements of our students in years 7 to 10. It was lovely to see so many parents and students at these events to share in the prize giving. The fact that so many students were nominated highlights the high standards and progress so many of our students are achieving.
It was a real honour to have Debbie Enever with us to present the 'Dan Robinson Sports Personality of the Year' award in memory of Dan. The award went to Max Fitzgerald who over the past four years has demonstrated outstanding achievements in PE at school and in extra-curricular sports. He has represented the school in football, cricket, athletics, badminton, and cross-country. He has also represented the High Peak in athletics. He is currently a Derbyshire Futzal champion and a Derbyshire county cricketer.
Also, a special well done to Joe Hennecker, one of Dan's closest friends, who won the Carol Wagstaff award in recognition of his resilience in the face of adversity.