Success for Sixth Formers at New Mills School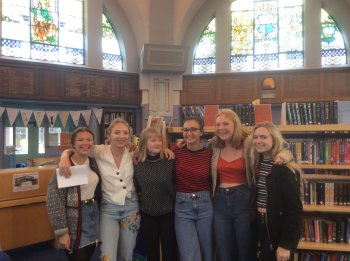 Nervous tension turned to proud smiles and laughter at New Mills School this morning as A level students opened their results envelopes among friends, family and teachers. Headteacher Debbie McGloin commented "Mornings like this remind us why we join the teaching profession. Playing such a vital part in opening doors for young people and helping them step out into the wider world and achieve their ambitions is what it is all about".
Students who have achieved their  place at university are buzzing with excitement to start their new courses. Students like Mia Rothwell  who achieved A*, A, A and B grades and goes on to study History at Somerville College Oxford. Mia said "I am very,  very happy" and added "I need to start doing some serious reading now!".  She is in good company as many of our students are going on to study at universities up and down the country. Manchester, Sheffield, Edinburgh and Nottingham have all accepted New Mills students to study subjects as diverse as Japanese, Music, Ecology and Conservation and Law. Many students exceeded their target grades or university offers. Rose Bartels, James Stubbs, Isobel Harwood all had unconditional offers from their chosen universities and yet between them they achieved  4A*, 5A and 3 B grades which is testament to their self-motivation and work ethic as well as the support they received from staff.
New Mills School is also very proud of our continued strength championing of Arts subjects. 100% of Music students achieved a grade B or above and they will be going to on to study music at prestigious conservatoires and universities.  Meanwhile, our Media Studies Students truly excelled themselves with  over 80% getting grade A or A* and no student achieving less than a B. Mr Harbord, Faculty Team Leader and Media teacher is very proud that a third of his students are going on to train in Film and TV Production. He commented "They did so well because of the effort and originality that they put into their practical coursework. I know that they will go from strength to strength as film makers".  English Literature was also a strength with one third of students achieving the prestigious A* grade. 
We are also delighted that some of our students are leaving us ready to serve in the RAF or to train for the Police force.
Mrs McGloin added "this is has been an exciting and happy day for New Mills School. Whether they are pursuing academic study, creative endeavour or public service, I am proud that our teachers have been so influential in helping these young people take the next steps towards achieving their ambitions."